Replacement Gym Cable custom made for any brand or model of gym equipment. (Body-solid, Body-craft, Technogym, Life Fitness etc). Made with commercial aircraft grade cable with 7 cores, each with 12 threads per core and coated in a high quality flexible and durable nylon.
Precision crimped ends with our industrial swaging and crimping machines. We use the same machines many of the original gym manufacturers use to ensure a high quality crimp with an outstanding finished look.
Charged at $10 per meter. Flat $10 Shipping on any cable nationwide.
Cable available in 3.5mm, 4.5mm or 5.5mm.

Important: Please ensure you order the same diameter cable as you currently have to ensure it moves smoothly through your pulleys.
Does my gym cable need replacing?

Aside from a snapped cable, you can self-check your own cables to determine if they need replacing before they snap and potentially cause an injury.
While the machine is not in use. Carefully run your fingers along the cable to feel for thinning or bulging areas. Replace cables immediately at the first sign of damage or wear. Do not use equipment until damaged cable has been replaced.
Visually inspect the cables for fraying, cracking, peeling or discoloration.
Check slack in cables and re-adjust cable tension if needed.
Check that the jam nut on the selector rod top bolt is tight.
Which bolt end do I need to order?
You can see our handy bolt measuring guide below to determine if you need Metric, UNC (Imperial) or BSW (Whitworth). These are the 3 primary bolt styles used in home gyms over the last 40 years. If you have a different bolt style not listed, or are unsure of which to choose, you can post us your cable and we can re-use it.
Not sure how to order? You can send us your old cable.

If you are still not sure how to order correctly or concerned you may order the incorrect size cable, you can post your old broken cable to us and we can make an exact replica of it. We can even use your old bolt or end connections.

Please post your old cable and a note with your return postage address and contact email or phone number to:

Nordic Fitness Equipment
Att: Cable Service Department
2/28 Finance Place
Malaga WA 6090

Our service team will contact you with a quote to replace the cable and send it out once completed.
Delivery
Nordic offers Australia wide Delivery
Important: We offer many different delivery options for a wide range of products, therefore delivery prices are calculated at checkout.
Standard Delivery Information
Most orders are processed within 1 business day and leave our warehouse in 2-3 days.
Estimated delivery times can be seen at checkout. These are estimates only and are provided by the courier.
Delivery is to front door only. Our couriers are not able to assist with deliveries up stairs.
All items arrive flat-packed and require assembly. Please contact us if you require a quote for assembly.
For heavy items over 30kg, a truck with a tail lift will be required for delivery.
Upon order completion you will be emailed tracking information for the delivery of your order. Please monitor it closely to ensure you are home to accept the delivery.
Warranty
Warranty Information
Warranty only valid if machines are properly maintained to Nordic's standard maintenance procedures. For more information please check our warranty page.
Important: This Warranty is not transferable and does not cover normal wear and tear (including, but not limited to, damage and wear to batteries, springs, bearings, running mats, hydraulic systems, ropes, belts, pulleys, power shocks, drive belts and other non-durable parts, etc...). Warranty is void if the product is damaged by accident, unreasonable use, improper service, failure to follow instructions provided, modification from its original state, or other causes determined not arising out of defects in material, the consequences of improper treatment, bad installation, wrong assembly or tampering of the parts by incorrect assembly, improper use of the machine (eg. too heavy load in time, weight etc...), problems caused by lack of maintenance, deviations of the standard machine, such as light vibrations or noise, etc...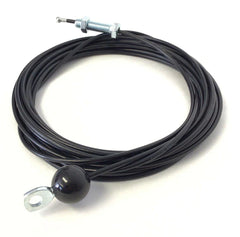 Replacement Cable
I took the option to send my broken cable to Nordic Fitness for them to make me a new one. They used my end pieces and produced an exact replica which I have fitted and it is perfect! Thank you!
Great service!
Within a couple of hours of placing my order I received an email saying that my replacement gym cable had been produced and dispatched. Absolutely unbelievable service. The cable arrived exactly as specified and looks to be really good quality. I'm very impressed with Nordic's customer service.
Cable replacement
Great service! Very happy, quick and efficient which is what you want when a machine in the gym is out of order!
Pec deck cable replacement
I had to replace a broken pec deck cable from my exercise machine. Luckily I found Nordic fitness Equipment offering a replacement service. I sent the cable details by filling out a very simple order form. I sent the order in the evening. Imagine my surprise the next day that the cable was in the mail, what a service. Unheard of these days. Upon receipt of the cable I fitted to my machine with no problems. The cable was a top quality item and more than compares with my original equipment. I highly recommend this supply service, Nordic Fitness is a superior supplier and an incredibly fast service.
Spot on.
I needed a replacement cable for my Total Gym (Old School one) and the product met all the requirements based on the measurements I provided, and it came relatively quickly, I can't complain about anything very good job, thank you.